The Do It Yourself, Easy to use, High Quality, Dishwasher Iron Filter
External Dishwasher Iron Filter
A dishwasher is a great addition to a modern household, and it greatly reduces the pain of washing dishes on a daily basis, much like a washing machine does to daily washing. In India, dishwashers are getting popular day by day.
Dishwashers works by a complex mechanism, working on jet sprays, normal sprays, water and detergents. Though the average life of a dishwasher is about 10 years, it has been observed that problems start arising within 5 years. This is because, in many places of India, the water quality is not up to the mark as your dishwasher would like it. The primary problem may be iron rich water, which tends to clog the fine nozzles in your machine, and leaving ugly spots/layers in your machine and your dishes, which you may have to wipe clean later. They also leave deposits in the machine.
Hardness build up is another problem, which amplifies the issue. The water may also have particulate matter, like dust and dirt, which are highly dangerous to the functioning of the machine.
You can increase the efficiency and the life of your machine, by installing a Parashu® dishwasher external filter, which effectively filters out iron, dirt, dust and particulate matter.
Gift clean, sparkling water to your dishwasher, it deserves it!
Our filters will prevent spots and build up, filter the water of all iron, and supply fresh water to your machine, for years. You will only need to change the cartridge, every 6 months or so, depending on water quality and usage.
How to use:
Screw in the provided tap to the out of the canister.

Open the existing pipe fitted at your washing machine and screw it in the input of the filter.

Now, take the new pipe and fit one end to the back of the washing machine and other end to the output tap of the filter.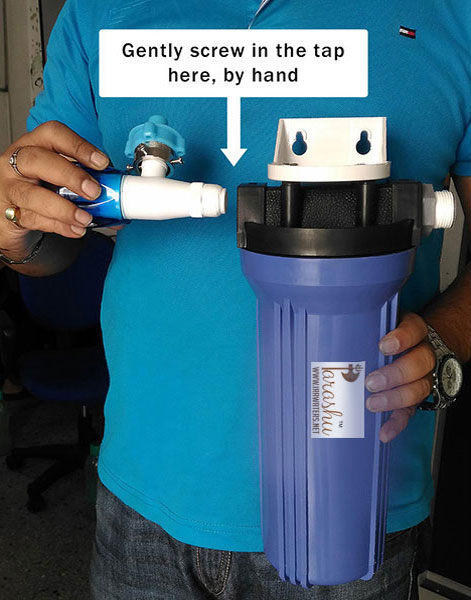 Parashu Dishwasher Iron Water Filter
Brand: Parashu
Product Code: PARAS00101
Availability: 25
Country of Origin : India
INR1,888.00

Ex Tax: INR1,600.00
Tags: dishwasher, iron, filter